And on a day when a flood of new articles and developments further cement Ron Paul's top tier status in Iowa
TheEndRun.com
12/12/2011
CNN has been airing a "Newt vs Mitt" ad this evening during their commercial breaks, even though there are eight GOP candidates still running for president — Ron Paul, Mitt Romney, Newt Gingrich, Michelle Bachmann, Rick Perry, Rick Santorum, Jon Huntsman, and Gary Johnson.
In the ad, footage is shown of Newt Gingrich and Mitt Romney campaigning as a voiceover asks: "Newt versus Mitt. Who will be the GOP's last candidate standing?"
Meanwhile, "a new American Research Group poll of likely Iowa caucus goers released today shows GOP presidential candidate Ron Paul tied for second place with 17 percent of the vote and within 5 points of Newt Gingrich, who garnered 22 percent of the vote. Of note, Congressman Paul wins 39 percent of the vote among independents, more than twice that of the nearest competitor."
Business Insider also ran an article earlier today headlined "Ron Paul Just Nabbed Iowa's Biggest Youth Endorsement", referring to an announcement today by the Editoral Board of The Daily Iowan that they are endorsing Ron Paul.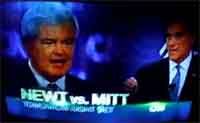 "The reasons for endorsing Paul over the other Republican contenders are numerous and warranted. The differences between their beliefs on governing primarily motivate our decision," The Daily Iowan Editoral Board writes while introducing their glowing review of Paul's platform. "Paul is a candidate who appeals to voters across the political spectrum. He has also been exceptionally consistent in his time in Congress. He doesn't play political games — even with his opponents — and remains truthful to his word. This alone is a redeeming quality in a candidate in today's political sphere. Despite the mainstream media writing him off as being unable to win Iowa, he is now polling in second place and may even be the most popular candidate in Iowa, given the margin of error."
The Paul campaign also unveiled an aggressive new ad today exposing Gingrich as a corrupt Washington insider guilty of "selling access" as Congressman. This is follows last week's ad exposing Gingrich's "Serial Hypocrisy".
"Newt Gingrich's vulnerability as front-runner is his long record as a Washington insider — and no one is making the case for that more convincingly than Ron Paul," reports Business Insider. "These spots underscore why there is still a substantial possibility that Gingrich will see his support erode before the Iowa caucuses next month. If Ron Paul can put this on TV in Iowa, Newt will be in real trouble."
See also:
Ron Paul Gaining Credibility By the Day, U.S. News & World Report, 12/12/2011
Ron Paul is striking chords with Iowa GOP voters, Kansis City Star (McClatchy), 12/12/2011
Ron Paul clobbers Gingrich, Romney in Drake University straw poll, The State Column, 12/12/2011
Study: Ron Paul is winning on Twitter, Politico, 12/8/2011
Iowa Poll: Only Ron Paul Can Beat Obama Steve Watson, Infowars, 12/6/2011
I guess CNN just didn't get the memo. After all, they would never deliberately attempt to skew public perception of the GOP field toward two establishment shills while purposely marginalizing a candidate like Paul who will genuinely work to end the wars, eliminate the unconstitutional "Federal Reserve" and restore sound money, balance the budget, end the "War on Drugs", defend personal liberty, and defend the Constitution and Bill of Rights.
Err…
Ron Paul Snubbed on Federal Reserve Question at CNN Debate
Breaking Down the Spin: CNN's Crowley Lies About Ron Paul
CNN Anchor: "You can hold the Ron Paul stuff"
CNN's Kurtz: "We are in the Business of Kicking Candidates out of the Race"
CNN's Beck Smears Ron Paul Supporters As Terrorists
Poll Gate: CNN Caught Red Handed Deceiving Public with Skewed GOP Poll
Ron Paul Cheated Again During CNN "Debate"
Update:
Ron Paul supporters: Uncut video shows he didn't 'storm out' of CNN interview (The Hill, 12/25/2011)
This post is tagged