TheEndRun.com
December 23, 2011
Five days ago, on Sunday, December 18, Gallup had Iowa frontrunner Ron Paul trailing Gingrich by 18% nationally among registered GOP voters, and Romney by 14% (screenshot).
Today, Gallup shows that Gingrich's lead over Paul has shrunk to 13%, and Romney's to the single digit range — 9% (screenshot).
In other words, Ron Paul has gained 5% on both Gingrich and Romney among Republican voters nationally over the past 5 days, despite aggressive and fraudulent attempts by the Establishment media to discredit and marginalize him.

Here's a brief timeline to put this in context:
12/15/2011: Paul squares off with Gingrich and Bachmann in final GOP debate before Iowa caucus (video)

12/16/2011: Paul appears on The Tonight Show with Jay Leno (video), and raises approximately $3 million in 24 hours during "moneybomb" (and another million over the next two days)

12/17/2011: Bloomberg reports that Paul (who wants to cut $1 trillion in his first year in office) leads in donations from Federal Employees (link)

12/18/2011:  In Iowa, PPP poll shows Paul taking lead while Gingrich  implodes (link)  Gallup shows Paul trailing Gingrich by 18% and Romney by 14% among GOP voters nationally (screenshot)

12/19/2011: News that Gingrich is collapsing in Iowa and Ron Paul is the new front-runner hits the media (ex 1, ex 2).  Gingrich-linked propagandists launch recycled and long-debunked "racist" smear against Paul (link)

12/20/2011: Iowa Governor urges voters to ignore results if Ron Paul wins (link).  Newsletter smear continues.

12/21/2011: NY Times projects Ron Paul as clear favorite in Iowa (link).  Attacks continue in Establishment media.

12/22/2011: Newsletter smear and other attacks continue in Establishment media.  MEANWHILE: "CNN Poll: Ron Paul Most Popular Republican Candidate Amongst Non-Whites" (link);

12/23/2011: Gallup shows that Paul has gained 5% on both Romney and Gingrich in the past 5 days among Republican voters nationally.  He has gained 3% while they have each lost 2%.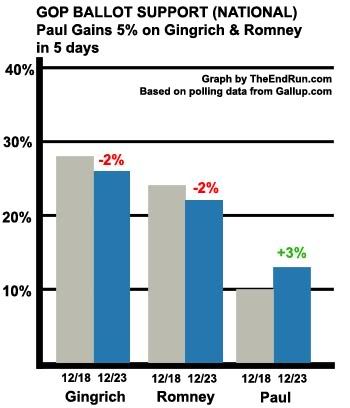 December 23 Gallup poll data (registered Republican voters):
Gingrich 26%
Romney 22%
Paul 13%
Perry 8%
Bachmann 6%
Others 3% (Gary Johnson?)
Huntsman 1%
Meanwhile, In Iowa, a new poll from ARG shows that Paul remains the frontrunner in the state:
Related: Ron Paul Newsletter Issue and "Racist" Smear: Compendium of Responses